Distaval thalidomide advertisement, 1960.
Proceedings of the Royal Society of Medicine, Vol. 53, No. 9, pp. vii-ix.


An old man's recovery confirms the singular safety of Distaval
A man of seventy - suffering from cerebral arteriosclerosis - mistakenly took twenty-one 100-mg. 'Distaval' Tablets just before retiring. For twelve hours he had an apparently normal sleep... and merely remained a little drowsy for the next two days.
This case (B.M.J., 2, 635, 59) is typical of an increasing number of reports, confirming the remarkable safety of 'DISTAVAL' –the non-barbituric sedative and hypnotic. Today, of course, the dangers of barbiturate poisoning are a source of very real concern to the medical profession. Little wonder that more and more doctors are turning to 'Distaval' as the rational answer to this urgent problem
'DISTASVAL' thalidomide &nbsp &nbsp Dosage:
As a night-time hypnotic at bedtime: Adults: 50 mg.–200 mg. &nbsp Infants and children: 25 mg.–100 mg.
As a day-time sedative: Adults: 25 mg. two or three times daily. &nbsp Infants and children: Half to one 25 mg. tablet, one to three times daily.
'DISTAVAL' 25 mg. tablets in tubes of 24 and bottles of 100, 500 and 1,000.
'DISTAVAL' Forte 100 mg. scored tablets in tube of 12 and bottles of 100 and 500.
Basic cost to N.H.S. of 12 tablets from dispensing pack of 100—1/- and 2/8d. according to strength.
DCBL ~ The Distillers Company Limited (Biochemicals) Limited &nbsp Broadway House, The Broadway, Wimbledon, London, S.W.19 &nbsp Telephone: LIBerty 6600
Owners of the trade mark 'Distaval' &nbsp &nbsp &nbsp &nbsp &nbsp &nbsp &nbsp Studio photograph



* &nbsp &nbsp &nbsp &nbsp * &nbsp &nbsp &nbsp &nbsp *
Click images to see more thalidomide ads.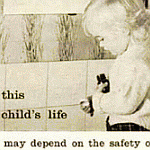 &nbsp &nbsp &nbsp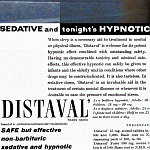 &nbsp &nbsp &nbsp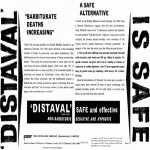 &nbsp &nbsp &nbsp