Distaval thalidomide advertisement, 1960.
British Medical Journal, Vol. 1, No. 5168, pp. 4-5.


DISTAVAL IS SAFE
"Barbiturate Deaths Increasing" &nbsp &nbsp A Safe Alternative
Since the introduction of 'Distaval' two years ago a number of reports have been received of cases of gross overdosing with similarly harmless results.
On the other hand, no severe toxic effects of any kind have been reported.
DISTAVAL TRADE MARK SAFE and effective non-barbituric sedative and hypnotic
DCBL ~ The Distillers Company (Biochemicals) Limited &nbsp &nbsp Broadway House, The Broadway, Wimbledon, London, S.W.19 Telephone: LIBerty 6600
Owners of the trade mark 'Distaval'
Dosage: As a sedative. ADULTS, one 25 mg. tablet 2 or 3 times a day. INFANTS & CHILDREN, half to one 25 mg. tablet 1 to 3 times a day.
As a hypnotic. ADULTS 50 mg. to 200 mg. INFANTS and CHILDREN 25 mg. to 50 mg. at bedtime.



* &nbsp &nbsp &nbsp &nbsp * &nbsp &nbsp &nbsp &nbsp *
Click images to see more thalidomide ads.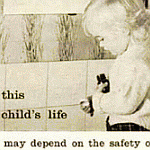 &nbsp &nbsp &nbsp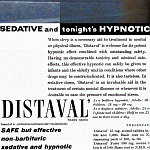 &nbsp &nbsp &nbsp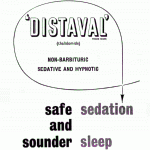 &nbsp &nbsp &nbsp